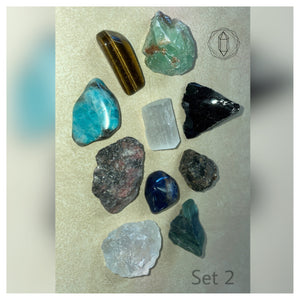 *HIGH VIBE* Healing Crystal Sets
Curious about crystals, but don't know where to start?! There are many types of crystals, all with different energetic and metaphysical properties. It can be intimidating trying to figure out what you're looking for or where to find what you need! 

Choose between 3 sets of crystals - each perfect for those looking to learn more about healing crystals, as well as those looking to add more sparkle to their growing collection. There is also a Mystery Bundle - the best option if you love surprises! 
Set 1: Chevron Amethyst, Citrine, Clear Quartz, Green Aventurine, Labradorite, Lapis Lazuli, Rainbow Moonstone, Rose Quartz, Smoky Quartz, & Tiger Eye
Set 2: Amazonite, Amber, Black Obsidian, Bloodstone, Clear Quartz, Green Calcite, Rhodonite, Sodalite, Selenite, & Tiger Eye
Set 3: Amber, Black Onyx, Blue Calcite, Chalcopyrite, Chrysoprase, Lepidolite, Mystic Merlinite, Rainbow Fluorite, Rainbow Moonstone, & Rose Quartz
*Mystery Bundle*: 10 crystals chosen intuitively for you! (Includes stones from any of the 3 sets.)
Each set includes:
• 10 crystals (each stone paired with a description card)
Each order includes:
• Detailed cleansing and charging instructions 
• Basic information on Chakras and how the crystals correspond to them
(*please include note at checkout if you'd like additional copies of cleansing/charging info or chakra details)
Size and color variations of each crystal will vary per set, as no two are the same. 
*Please note that these crystals and any information provided are not intended to replace medical advise, nor cure/treat any medical condition(s). Individual experiences vary.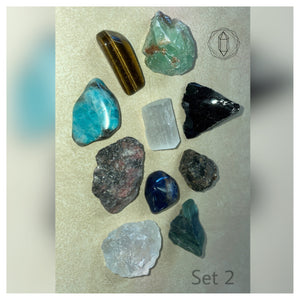 Love, love love
Never disappointed with the love and care taken when I receive the beautiful crystals. This is my second set and will definitely purchase more in the future!
Love it
I love the detailed card that included what each Crystal could be used for. The personalized card and additional crystal was amazing as well.
High vibe healing crystals
I absolutely love my crystals!! They come with a detailed description and individual packets. They are absolutely beautiful!!