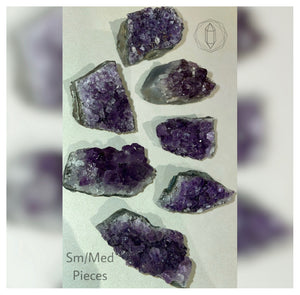 *HIGH VIBE* Amethyst Clusters
Select a gorgeous, shimmering Amethyst cluster for your collection to incorporate peace and protection throughout your personal space. These *High Vibe* pieces can help calm the mind and balance emotions, along with assistance in many other areas, such as:
• sleep problems (insomnia, nightmares, etc.)
• migraines
• increased intuition
• boosting immunity 
• addictions and healing 
Small/Medium Sized Pieces are approximately 1-1.5" in length.
Medium/Large Pieced are approximately 2-2.5" in length. 
*Info card included with your order. Size and color variations of each crystal cluster will vary per order, as no two are the same. 
*Please note that these crystals and any information provided are not intended to replace medical advise, nor cure/treat any medical condition(s). Individual experiences vary.